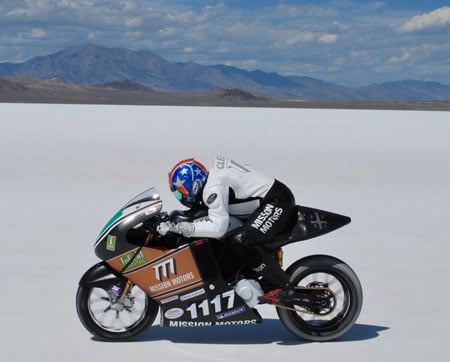 I recently came over an article where Jeremy Cleland drove at an average of more than 150mph  (241,4Km/h) over two miles (3,22Km) on an electric bike named "The Mission One". Now that's what I call progress!
According to the article (link at bottom of post) the 240 Volt powered bike beat 70% of all the petrol-engine bikes in the competition held at Bonneville salt flats in Utah. Quite impressive!
The bike will be available for consumers this year! – at a price of £42.000 which is roughly US $68.400 – a bit too pricey for my taste, but I'm sure the price for these dream machines will drop drastically in the coming years as competition tightens.
Mission Motors, who developed The Mission One, first showed off the bike at the 2009 TTXGP on Isle of Man (click here for an article on that + early photos).
According to online rumors (now there's a great source for ya!) the consumer bike will be capable of doing 150 miles (241,4Km) on a single charge. Sounds like the perfect city bike eh?
Source:
http://www.dailymail.co.uk/sciencetech/article-1214834/Electric-superbike-smashes-speed-record-breaking-150mph-mark.html